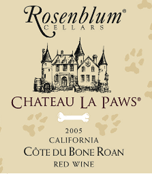 What's in a name? When it comes to wine, it's quite often sales.
Names, of course, don't affect the taste. As the great wordsmith Shakespeare might have put it, a wine by another name would smell as dry with a hint of raspberry, leather, and garrigue. But sometimes the name can make us groan, roll our eyes, and not buy the bottle.
Consider Rosenblum Cellars' Chateau La Paws Cote du Bone Roan red (about $14; find this wine). I've seen the wine on store shelves, groaned, and kept walking. But I recently tried it at a trade tasting and the heck if it isn't purdy darned good! But I'd still never buy it. OK, maybe as a gift for my dog-loving sister-in-law. Once. Or for some other friends who are very into their adorable puppies. But only once then too. Moving on!
Which wines out there have the most groan-inducing names? (A Groan Cru, if you will.) Hit the comments with your thoughts. Next week, we'll narrow the field and let the voting begin! And please note, this is for names only; the aesthetes had their say recently with the worst label design.