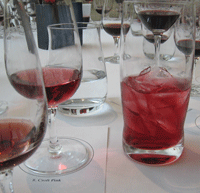 Port has long been poured in clubs. But night clubs? Yes, port may soon leave the wintry fireplace and appear in two unlikely locations: on the deck mid-summer and in night clubs.
The folks at the venerable port house Croft have now started to think pink. At a press event on an 80 degree, sunny day in Manhattan, Croft unveiled the first ever rose port and poured the pink drink both chilled and on the rocks. It is available for about $20 (find the Croft pink).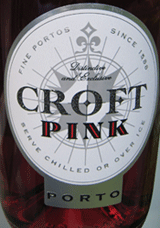 Adrian Bridge, CEO of The Fladgate Partnership that now owns Croft, explained the making of the port. He went to the Port authority (not, in his country, an entity that runs bus stations) and petitioned for the ability to make a rose. They told him that port is either red or white and if he wanted to do a rose, a new administrative category would have to be made, a process that might take ten years. With brio and speed usually reserved for the New World vintners, Bridge slipped it through the administrative cracks as a "ruby," the youngest port aged in large vats.
The resulting port is pink in color thanks to brief skin contact during fermentation. But then it is made like a traditional ruby port and the fermentation is stopped with the addition of a distilled spirit resulting in a finished port with 19.5 percent alcohol and 94 grams of residual sugar–and pink. To me it was betwixt and between, neither wine nor port with notes of strawberry and rhubarb akin to a rose but the punch and sweetness of a port. I think it would benefit from bubbles, as in adding soda water.
That might not stop fashionistas from ordering it up. Bridge said that he made a "bold" 500,000 liters of Croft Pink last year but after "huge excitement" in Hong Kong last week, he said they "might run out." Now, he's now turning his sights on the US, starting with New York City first and later Texas and Florida. Since the Cosmopolitan has jumped the shark, I'm surprised that they weren't swilling this pink drink in the new Sex and the City. Croft Pink–it's not your grandfather's port.
croftpink.com