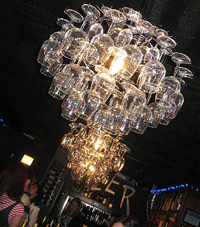 SPIT: freedom in Illinois!
Wine-loving residents of the Land of Lincoln now have fewer choices: It's confusing, but in a law effective today, wineries (both out-of-state in-state) will have caps on the amount they can ship to Illinois and out-of-state retailers will be banned from shipping to the state. While it's a sad day and you can chalk one up for special interests let's just hope this legislative folly goes the way of the foie gras ban soon enough. [Chicago Tribune]
SPIT: freedom in France
Liberté takes a back seat in France too where wine ads are strictly controlled in France and Microsoft has taken the unusually cautious step of removing wine ads from their ad service (Google ads still include wine on the internets in France). If anyone is looking at this site in France, remember, ceci n'est pas une pub! [thepost.ie]
SIPPED: wine education
An inside look at wine education at the Sommelier Society of America. [NYT]
SPIT: jugs!
Almaden and Inglenook, two wines known for their big jugs, will now come in the lightweight bag-in-box format. It sounds like old wine in new wineskins but because of the volume involved it will contribute to reducing wine's carbon footprint. [Bizjournals]
SIPPED: corks in space
Schramsberg winery reports that Navy Commander Kenneth Ham is flying with bottles of the bubbly on board the space shuttle Discovery! If only. But he is taking some corks and labels from the Napa sparkling wine producer on the flight with him.
SIPPED: Wine books
A review of three wine books today in the NYT Book Review section follows one by Eric Aismov from ten days ago to review the spring crop of wine books. And, yes, my reviews will follow soon before you head to the beach this summer!
RIP: Robert Mondavi, the American wine colossus, who died at 94. [SF Chron, NYT]
(image)