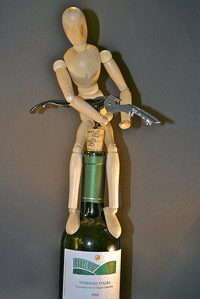 Bad news comes in threes, allegedly. After a third high-profile, stinging rebuke, can America's wine servers now breathe a sigh of relief? The main issue in all these critiques is tempo and how diners feel rushed. Polemicist Christopher Hitchens, who last attacked God and now brings his wrath down on America's wait staff, is the most recent critic of wine service calling it "cruel abuse" (um, yikes) in Slate. To the tape:
The vile practice of butting in and pouring wine without being asked is the very height of the second kind of bad manners. Not only is it a breathtaking act of rudeness in itself, but it conveys a none-too-subtle and mercenary message: Hurry up and order another bottle.
The same thing bothered Roger Cohen who took his complaints to the unlikely location of the op-ed page of the New York Times:
I was dining the other night with a colleague, enjoying a respectable Russian River Pinot Noir, when he said with a steely firmness: "We'll pour our own wine, thank you." This declaration of independence was prompted by that quintessential New York restaurant phenomenon: a server reducing a bottle of wine to a seven-minute, four-glass experience through overfilling and topping-up of a fanaticism found rarely outside the Middle East.
Finally, the generally sunny John and Dottie dropped the hammer on wine pairing menus in the WSJ in February saying that at Le Bernardin "the wines came and went as a blur" and that, in general, ordering the wine pairing menu "can mean being treated like a rube." Although tempo was their biggest gripe, they also criticized other aspects of the service including glassware and wine freshness.
So is wine service in American restaurants going to the dogs? Eric Asimov did note a labor shortage two years ago in skilled staff. But Mike Steinberger argued convincingly that American sommeliers were better than their French counterparts.
One thing is for sure: markups are high and a recession is nigh. Gallo, not a name one usually thinks of in restaurants, recently admitted that a weakening in dining out was crimping their overall sales. If diners start staying home then maybe wait staff will be able to linger longer.
(image)