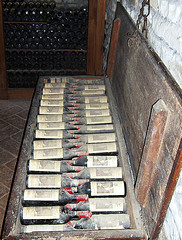 A special section on Wine Investment hits newsstands in today's Financial Times and the enlightened folks on the other side of the pond have put the full contents online. Huzzah!
Even if you aren't that into wine as an investment, the section offers a lot of bang for the free buck. The lead article by Jancis Robinson is about Hong Kong as an emerging center for wine (as we discussed here with a focus on riesling) and I'd like to return later to some of the other issues raised in other pieces. For now, I thought the round-table with three American collectors, including the "Big Boy," Rob Rosania (his Salon 1996 strategy we also already discussed), provided a quick observation worth noting.
Older vintages are woefully undervalued is one sentiment that the collectors bring up. I have felt the same way since I bought a beautifully mature 1971 Giacomo Conterno Barolo last year for $300, which is a mere fraction of other collectible wines upon release today.
Raymund Tuppatcsh, one of the collectors in the roundtable, says that's going to change soon. "I think you are going to see a correction to the upside like you've never seen – a tripling or quadrupling of prices over the next 18-24 months." Yikes. Time to buy more wines from our birth years now?
(image)