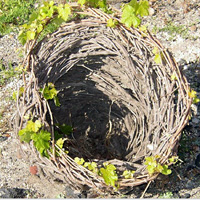 I had a wine that came from a nest today. The vineyard manager would probably call it basket or even ampelies. But to me it looked like a nest. Granted, I was only looking at a photo–if only I could have arranged a field trip to the vineyard.
Blown to bits by a volcano in 1640 BC, the sliver of a Greek isle that is today Santorini has many old vines. They struggle. They cling to the earth. And the vineyard workers prune them into these nest/baskets intentionally to help them against the elements, notably the near-constant wind blowing over the treeless slopes. The other element is water. The vines survive the scorching summer days by collecting moisture in the nests at night when the fog rolls in. Sounds quite dramatic and I'll have to check it out with Mrs. Vino one day. And the sunsets. And the food. But back to the wine!
Domaine Sigalas, Assyritiko-Athiri 2007, $16 (find this wine)
This dry wine has a nice creaminess on top of good acidity that makes it extremely user friendly. The importer, Ted Diamantis, told me that it's the Athiri grape that gives it that richness. The Domaine farms organically.
For wine geeks, the other wine, a straight assyritiko varietal wine (find this wine), has some off-the-charts briney qualities with a faint smokiness and minerality–the gout de terroir of Santorini, no doubt. Ted suggested pairing it with shellfish with high iodine-levels, like oysters. Sounds like a plan.
In lieu of their own winery website, here's a link to Domaine Sigalas on the useful site All About Greek Wine.
Check out a nice pic of a Santorini vineyard over here.