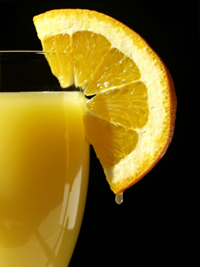 The always erudite Eric Felten bemoans the Mimosa, "the official semi-alcoholic drink of brunch" as "an ordeal." True enough because of OJ from a carton and cheap, off-dry bubbly. Then he spells out his recipe for success with the drink: freshly squeezed orange juice and good dry champagne.
In my limited cocktail making, I have come to learn that the fresher and better the ingredients, the better the cocktail. But I've also learned that there really aren't that many great wine cocktails. While I agree in principal with Eric's suggestion for the Mimosa makeover (though his suggestion of Veuve Clicquot is hardly the driest champagne around in these days of brut zero), I can't bring myself to put OJ in my Bollinger (his second, and much better, champagne suggestion). If I have a fresh OJ and a glass of fine champange I'd rather enjoy them separately and never the twain shall meet. For me, it's a nice dry cava or prosecco that is the best way to go with the fresh OJ in a Mimosa.
What do you say? Is the Mimosa where you'd put your Bollinger?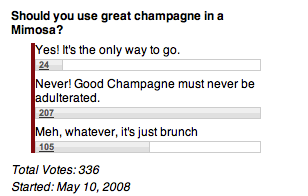 Poll now closed
Image: istockphoto