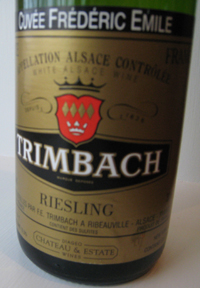 The Trimbach Cuvee Frederic Emile is one of the world's great white wines. And at $35, it's also one of the world's great white wine bargains.
I had the 2001 recently with a friend and loved it. I tried the 2002 at a tasting last week and found it higher in acidity and not quite as subtle as the 01, so I went out and bought some more of the 01. I've never had the top wine from the Alsatian producer, the $120 Clos Ste. Hune (find this wine), but one of my friends who has had it describes the "Freddy" as "more than half the wine at a quarter the price."
Although I prefer German Riesling on the whole to the Alsatian versions, this Freddy has a German-like precision, alluring aromas of lime zest, lemon grass, wet rocks and a touch of honey, while the palate has excellent richness while remaining dry and a long finish. I'd like to try a version of this wine with some age on it so I've stashed away a few bottles for just that purpose. Next time I'll try it with pan-seared scallops.
The wine is from grand cru vineyards but still seems to have a production size that means that it actually can be found. Search for it now before it is all gone.
Why write about this wine today? Why, it is for Wine Blogging Wednesday #45, with a theme of Old World Riesling that Tim Elliott selected. Surf on over to Tim's site to see a roundup of which other Rieslings people chose to explore. And thanks for the one day grace period, Tim!