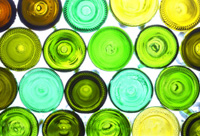 An MIT professor whose research focuses on energy and the environment is currently teaching Masters students in Sustainability Science at the University of Tokyo. He contacted my co-author and me about our research into the carbon footprint of wine since he wanted to assign his students the same task but tracking three bottles of wine to Tokyo instead of to Chicago, as we had done.
They tracked three hypothetical bottles from California, Australia and France and varied the mode of transport, with California going by air and the other two using shipping. Their results mirrored ours showing that the mode of transportation matters and that the mass of packaging also plays a role. Several students proposed that wine be shipped in bulk and bottled at the point of sale or consumption. He also added this detail:
The class discussion was concluded with an experimental component in which the students had the opportunity to sample a Yellowtail Cabernet Sauvignon (2005), Muscadet de Sevre and Maine (Loire, 2006), and a Ravenswood Zinfandel (2005, actually Sonoma + Mendocino but that is close enough to Napa). They agreed that (1) this made the assignment more interesting and (2) there are factors other than carbon emissions that should be taken into account when choosing wines.
I'm glad they enjoyed the research!
On a related note, the NYT ran a graphic with some of our findings in the excellent recent article, "Movable Feast Carries a Pollution Price Tag," by Elisabeth Rosenthal.