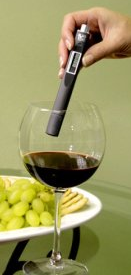 "I bet this wine is sixty-two degrees," I confidently proclaimed. Seconds later, I used the Nuvo Vino infrared wine thermometer to check by pointing it at the surface of the wine and pushing a button. The instant reading was sixty-one degrees. Close.
The company sent me their $37 device for testing recently. I started testing the temperature of red and white wine in my glass at the table. But quickly that got tiresome and I found my son's hand was eighty-three degrees. His ice water, thirty-three degrees. The next morning, my coffee was 149 degrees.
Is it necessary to know the exact serving temperature of your wine? No. But it is true that many whites are served too cold (fridge temp) and many reds served too hot (room temp). I don't think you need a $37 thermometer to tell you that a wine is colder than room temp or warmer than the fridge. On their site, they have a detailed chart for recommended serving temperatures, which generally good (I particularly like their advice "cheap sparkling wine is best served quite cold."). The excessive detail of the chart and the suggestion that there are yet more rules to follow for wine consumption though, I fear, risk confusing the average consumer who is just warming up to the fact that it's OK to have pinot noir with salmon.
On the other hand, if you are looking for a gift to give the wine lover who has everything, has a hankering for James Bond-style gadgets, likes wonking out with experiments in wine service, and wants to annoy everyone with repeated temperature readings, then throw it in your shopping cart.