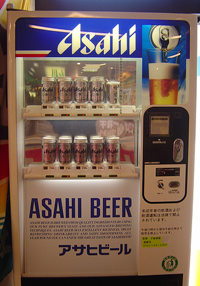 Pennsylvania is hardly the first state where you would expect innovation in wine retail. The state's Liquor Control Board owns all the retail outlets and the distribution in the state. Generally monopolies are known for limited selection and high prices, not innovation.
Yet that is exactly what might be in store for Pennsylvania wine enthusiasts as the state has proposed to allow 100 "wine kiosks" around the state. To the tape:
The kiosks, a type of temperature-controlled vending machine capable of holding 500 bottles of wine, would be placed in grocery stores and other places [malls], according to request on the LCB's Web site. They would offer about a dozen different types of wine.
Before you think this is where all the minors are going to go before the prom, each kiosk will have "fingerprints and biometric readings" for age verification. Yikes! Retinal scan for retsina.
Making wine more accessible is a good thing. I hope for all wine loving Pennsylvanians that the selection is great! Get a little Bollinger before heading to Borders? Malbec and a movie? I wonder if they will have stemware. Or perhaps TetraPak wine so the bottle doesn't break while being dispensed.
Would you like to see them in your state?
Related: "Poll: should the US drinking age be lowered?"
(image)