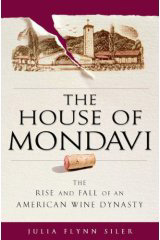 Julia Flynn Siler wrote an excellent book, House of Mondavi: The Rise and Fall of an American Wine Dynasty, which came out last year. In it, she chronicled the compelling saga–complete with sex scandals, business success and failure, courtroom drama, and a brawl–of one of America's leading wine families. The book is currently shortlisted for a 2008 James Beard award in the wine and spirits book category. (As is George Taber's To Cork or Not to Cork, which we previously gave away.)
I have two paperback editions of the book to give away. To qualify, post a comment here about which American wine family or company you'd like Julia Flynn Siler to put under her journalistic microscope next. Post your comment by midnight Sunday and check back here or your email to see if your name was selected at random as one of the two winners.
UPDATE with winners: Scroll down to this comment for the winner announcement. Congrats TH and Tyler!