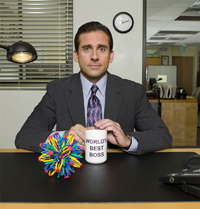 The response was great to the last "spot the spoof." So we bring it back! Which one of these items that appeared since the last edition is not true?
* A commentator on the Today show declared the wines of Napa "out" and those of North Carolina in. "This is what's going to be hot this year."
* Michael Scott on "The Office" had wine at a dinner party and described it as having "an oaky afterbirth."
* An anonymous Chinese collector purchased 27 bottles of Domaine Romanee Conti at auction for record-breaking $5 million.
* Restaurateur Joe Bastianich picks the wines to serve Pope Benedict XVI at two dinners in NYC and has the moxie to pour four of his own wines.
* Slate.com opines "kosher wines don't suck anymore."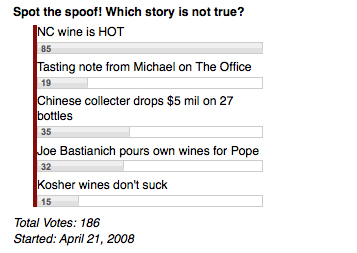 poll now closed