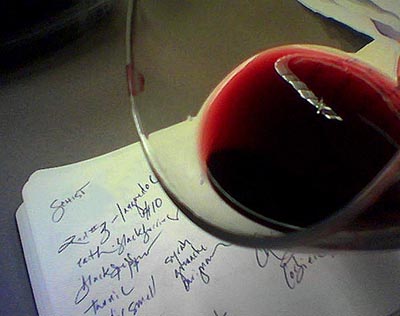 Last week was the final session of my six-week NYU wine class. The grouping of people was very fun and hopefully everyone is a little more wine savvy.
One of the things that I do in the class is poll people on whether they like each wine. They're free to love them or hate them and we generally have some fence-sitters too. Some people love certain wines ("smell the terroir!") that are hated by others ("smells like terroir!"). Oddly enough, the expensive wines are not always the most popular since they have either too much individuality or too much conformity to please everyone.
But some wines are unanimously enjoyed. Below is a list of those wines. Incidentally, I poured about 35 wines (blind) spanning many places and styles. One week I was away on parental leave and recruited Mollie Battenhouse to help me out. Mollie, the former sommelier at Tribeca Grill and a candidate for the Master of Wine (all she has left is her dissertation), is starting her own wine business in NYC that is a first of its kind. More on that on a future date…To the wines!
* Luneau-Papin, Clos des Allees, Muscadet 2005 $12 (find this wine)
* Godeval Godello 2006 $16 (find this wine)
* Lenz Estate Merlot, North Fork Long Island, 2001 $21 (find this wine)
* Patricia Greene, "Whistling Ridge" Pinot noir, 2006. $35 (find this wine)
* Catena Malbec 2005 $16 (find this wine)
* Yves Cuilleron, "vin de pays des Collines Rhodaniennes," Syrah 2006 $18 (find this wine)
I was most surprised by the two whites, the zippy, unoaked Godello from Spain and the Luneau-Papin, a Muscadet. But the Luneau-Papin is a great wine that is richer and creamier than many from the region so I guess it's not really surprising.
But the big surprise was the Lenz merlot. First: merlot. They were steeped in Sideways lore that merlot sucks, which, admittedly, it does all too often. Second: Long Island. But Eric Fry, an iconoclast, makes his wines in an unusual way with both assiduous barrel age and bottle age that shows the varietal character and, clearly, is a popular choice.
(image)