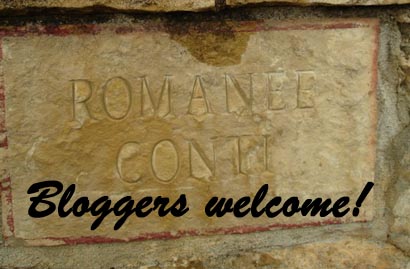 About a year ago, a friend of mine asked me for advice on starting a blog. My first thought was, "why not? Who DOESN'T have a blog these days?" But this friend is an avid wine collector (and a consultant to other collectors) and wanted to blog about his fine wine experiences. The more I thought about it, fine wine and blogging seemed an odd mix.
Mike Steinberger explores this disjuncture and much more in a rich and very worthwhile essay entitled "Everyone a Critic: The Future of Wine Writing." It graces the current cover of the English magazine, The World of Fine Wine (available free this week only here as pdf).
The most interesting thread to me is the economic angle. It should come as a surprise to nobody that there's little money in writing (but the glory! Yes, the glory!). Further, as prices have risen on the top wines, indicating demand outstripping supply, those wines have become increasingly out of reach for wine writers. What incentive do producers have to give wine writers a sample? And in the absence of that sample, how many writers can afford to buy them on their own?
It got me thinking: are fine (expensive) wines relevant to wine blogs? I think so. But a steady diet of them would likely run the blogger to ruin or bore the audience to tears. The economics of blogs is based either on a labor of love or on eyeballs for ads–and there just aren't a lot of eyeballs that are seriously interested in $1,000 bottles of Burgundy. A previous poll here showed that blog readers prefer free content. So my friend might be better off contributing to the Parker bulletin board where the audience delights in bling bottles or starting an online newsletter with his notes and charging $100 a year.
Do you think expensive wine and blogs are a good blend? Do you drink a lot of wines north of $100?
I was pleased that Mike included me along with Jamie Goode, Alice Feiring, and Tom Wark as some "fresh voices taking wine journalism in new and important directions." I'd like to return the compliment since I have always been a fan of his writing–whether in Slate, the Financial Times, Saveur or wherever–finding it to be polished, provocative, entertaining, and informative. Too bad he doesn't have a blog.