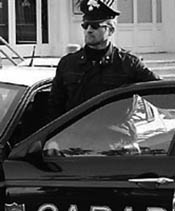 Last summer, some Italian police were trained as sommeliers. They have been kept busy.
First, 600,000 bottles of Brunello di Montalcino from Castello Banfi have been impounded because the wine, which should be 100% sangiovese, may have had other grape varieties blended in. Not a big deal, really, but it is in contravention of the Brunello di Montalcino standards.
Now, thanks to a tip from Gabrio, I've learned that there is another, more serious adulteration scandal affecting 70 million liters of Italian wine. According to this poorly translated page from L'espresso, fertilizers, hydrochloric acid, sulphuric acid and maybe more have been found in some low-end wines in Italy. The perpetrators cooked up the "hellish cocktail," apparently, in an attempt to stretch wine by adding water and sugar. Then they used the industrial acids to break the sucrose (sugar) down into glucose and fructose, which are allowable and prevented detection. Yikes. L'espresso calls it "the largest food adulteration ever discovered in Italy."
Gabrio writes "This is a serious problem that can damage the Italian wines image like the ethanol scandal that happened 22 years ago…That is the reason why I stay away from the mass produced wines."
Do you think Italy has more fraud than other countries? Or are the authorities just better at sniffing it out?