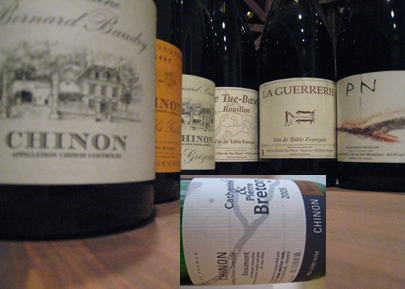 Here's a great lineup of red wines form Loire – three 2005s from Bernard Baudry and two vins de table (and thus, no vintage) wines from Puzelat. Hmm, sounds like a matchup from Wine Madness…So let's throw in a Breton too to change things up…
First to the Baudry wines from Chinon: I tasted them first blind, in a lineup of Loire reds. The 2005 "domaine" (under $20; find this wine) is tight, concentrated and serious with a great balance of dark fruits, acidity and cab franc tannin. I poured it later to my NYU class where the reception was mixed but definitely favorable. It probably needs some cellar time…
The Baudry Les Grezeaux (find this wine) is another solid offering that, back in the blind tasting, had a great degree of seriousness and poise. But even better was the Le Clos Guillot (find this wine), a serious and age-worthy wine with great integration of the dark fruits, acidity, minerality and tannins.
The Puzelat "vin de table" wines (find these wines) are not allowed to state the vintage but they are probably 2006. They are easier drinking, with bright fruit and higher acidity and totally rewarding under $20 wines. Try with chevre.
The Catherine & Pierre Breton 2005 Chinon (find this wine) is also tasting great right now–so great, it's one of those "there must be a hole in it because how else could it be empty so fast" kinda great.
The reason for these speed reviews today was at the suggestion of Garyvee, who holds the rotating chair for Wine Blogging Wednesday this month and picked the excellent theme. Since he is a video blogger, I'm not sure how he will do a customary round-up but you can always check the WBW site for the latest.
Also of note: Eric Asimov did his own Chinon shuffle recently.