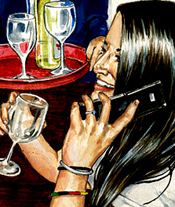 SIPPED: discussion!
Eric Asimov of the NYT had a thoughtful article in Wednesday's paper about exposing teenagers to wine in the home. It's great to see a constructive discussion (325 comments long!) on his blog about fostering wine enjoyment in the home rather than the usual discussion of excesses. Related: we've discussed kids at wineries and how appropriate is the drinking age of 21 here. [NYT]
SIPPED and SPIT: NYC wine bars
Closing tonight is Divine Wine Bar East. Zagat reports they have having the Mother of All Happy Hours tonight to liquidate (ha) the inventory. Opening: Bowery Wine Company and the new wine lounge at Le Cirque. See the action on the NYC wine bar map!
SIPPED: The audacity of nope
French President Sarkozy, a self-proclaimed teetotaler (although see here and here for evidence to the contrary), has the nerve to ask to see the wine list at Windsor Palace before a state dinner. [Times of India]
SIPPED: resveratrol
"Researchers at the University of Rochester have shown for the first time that resveratrol, a natural antioxidant found in grape skins and red wine, helps to destroy cancerous pancreatic cells by crippling the diseased cells' mitochondria, the minute organelles found in the majority of living cells which provide them with energy." [FT.com]
Image: fair-use is made of a reduced size crop of an image that appeared in the NYT attributed to Lisa Adams.