Our family piled into the car this past weekend and made a getaway to wine country. No, not California but New York's own wine country: the North Fork of Long Island! Yes, in the three years since we moved to the Empire State, I had never been to the closest cluster of vineyards to me. Gasp!
So we braved pouring rain and 50-mph winds that lashed the Island on Saturday. Louisa Thomas Hargrave, a friend and stateswoman of the region who planted the first vineyard in 1973, graciously arranged a few stops for us. I hope to write these up soon.
My main takeaway was that I had neglected an interesting region in my own proverbial backyard for too long. As part studying the carbon footprint of wine and writing about it, I've resolved to learn more about wines made close to where I live. Wouldn't Governor Spitzer Paterson be proud? The alcohol levels are often low as a result of the coolish climate (for now), the best winemakers are not addicted to oak, and the best reds (and whites) don't have residual sugar.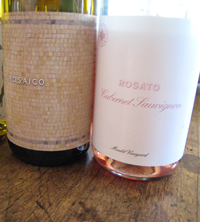 Our quick jaunt included some interesting wines such as a merlot at Lenz, a cab franc at Paumanok, and a solid pinot blanc from Lieb. Although I didn't make it to Channing Daughters, which seems to be quite worth it, I did meet Christopher Tracy, wine geek extraordinaire, chef and the winemaker. He told me they have Tocai Friulano, Muscat, Gewurztraminer, Blaufrankisch and are planting Dornfelder–wonderfully wacky! They even do skin contact on some of their whites and make a "sauvage" Chardonnay that uses indigenous yeasts. I tried the refreshingly crisp and slightly aromatic "Mosaico" (find this wine) white blend as well as their summer-is-coming 2007 cabernet sauvignon rose (find this wine). I'm sure there are more interesting wines in the region and I look forward to exploring them more now that I know the way there.
One thing that did dampen my enthusiasm even when the rain could not was the price: all the wines I liked started at $17 and moved up from there making them, perhaps, more special occasion wines rather than everyday quaffers. Somehow I thought there might be some bargains since we were all in this same down-trodden currency zone together. So my question to you is: how much is drinking local worth to you?
Taste many of the wines for yourself at the annual Brooklyn Uncorked event on May 14, which will have many of Long Island's most best wineries. It's 4-8 PM at BAM Cafe in Fort Greene, $50.