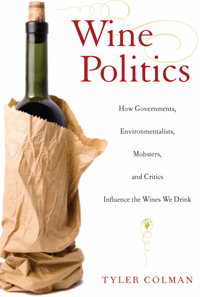 I mentioned my forthcoming book earlier in the week in a post and there have been some very supportive and enthusiastic comments and emails! Thanks so much! Also a little bit of confusion, which I have no doubt created, so I thought I would clarify things.
I have the very good fortune of having two wine books coming out this year! The first, Wine Politics: How Governments, Environmentalists, Mobsters and Critics Influence the Wines We Drink will be published on July 1 by the University of California Press. In it, I trace the story of wine in France and America through the lens of wine politics–struggles against nature and society, where lines get drawn, how wines get made. Man versus man, man versus nature all that good stuff. There's even a part where Britney goes crazy and shaves her head–oh wait, that's not in there but I thought I'd mention it here in an effort to sell more copies.
Above you can see the cover art in all of its glory! I'd venture to say that I have the first ever wine book cover to be graced by a bottle in a brown paper bag. Covers matter, obviously, since buyers often judge books by them–and especially now since Borders will be displaying more of them face out.
There was a great essay in the Times on why it takes so long to get a book on the shelves if you're not familiar with the book publishing process. One peril discussed in that article is having a book come out in the second half of a presidential election year. Even though it's not a wine drinker's guide to politics, it's perhaps fortunate for me that this book on wine politics also happens to be coming out in a presidential election year!
The second book is the one that I finished writing last month when I gave you a head fake and said I was going to take a break from blogging and then didn't. More details to follow on this one. But since the first book won't tell you which wine to have with dinner the second one will–and more!–since it is Dr. Vino's Guide to Wine. The publisher on that one is Simon & Schuster. It's due out in November.
Wine Politics: How Governments, Environmentalists, Mobsters and Critics Influence the Wines We Drink (Amazon; UC Press)