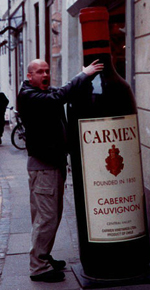 "It's no wonder Britain's middle classes are getting wasted," Trish Groves, of the British Medical Journal, told the BBC.
Why? Could it be the economic slowdown? Posh & Becks living in America? The fact that the Grammy for best album went to Herbie Hancock instead of Amy Winehouse?
No, it's the 750 ml bottle!! "It's all too tempting to finish the bottle there and then to avoid waste," Ms Groves continued. Those frugal Brits are plunging themselves into the abyss just so they don't waste 250 ml of wine. Someone airdrop them some of those vacu-vin stoppers!! And just keep them away from magnums!! Or giant bottles on the street!
Related: "Big wine glasses make you drink more: poll"
(image)