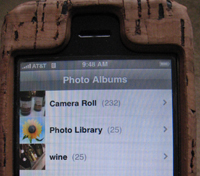 Did you know you can store your wine label images in a separate folder on your iPhone? When you are stumped in front of a sea of bottles at your wine store, you can flick through and see ones that you've enjoyed before. Or, if you can't remember which wine you had with dinner last night (ahem), just snap a pic and store it for jogging the memory later. You could even download label images as a wish list!
Scroll through for a brief photo tutorial. I'm sure you can get something similar to work on other phones too, if you have to. How do you store your label images?
Create a new folder "wine" or whatever in iPhoto. You can drag photos from your other image folders into "wine." Then when you sync the phone in iTunes set it to sync that folder et voila!
Oh yeah, the Carlo Rossi. Maybe that's one you don't want to remember.