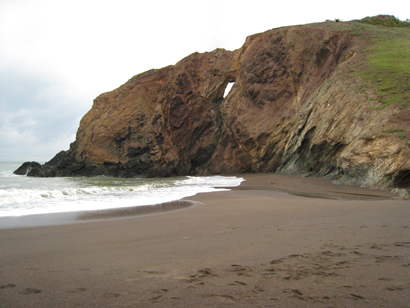 Although the gray clouds were high in the sky, rain threatened every minute of our cool walk along the trails. After a fun but draining week in Napa last week I welcomed a break with my cousins on Saturday as we walked about five miles over hill and dale (what is a dale?) to reach the beach pictured above in Marin County.
Anyway, after the hike, we stumbled on Small Shed Flatbreads in Mill Valley, a restaurant where the banquette is made from a reclaimed bowling lane–complete with arrows–and the menu has a local and organic focus. I ordered a sweet potato curry soup and we shared various other excellent flatbreads and salads for the table. On a whim, I decided to order a Zardetto Prosecco (find this wine) and it came in a Duralex glass, not a flute, but tasted great and refreshing, cool with its pleasant acidity and faint sweetness.
Prosecco is now my official wine after hikes. A good wine tastes great in the right context.