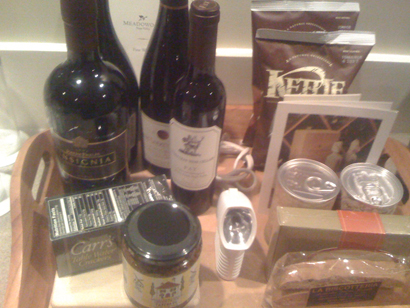 While you may not be able to touch Wynn's nuts in Las Vegas, the Meadowood resort in Napa encourages you to pull the corks on the wine in the room.
Even though I wondered briefly which wine goes with Kettle chips, I managed to make it through my stay for a wine writers' conference last week without opening a bottle in my room. But I was tempted since the wines were some top examples of local offerings at incredible prices. Consider the Joseph Phelps Insignia 2001 for $145 in the room when it can't be found for less than $130 in a store (find this wine), if at all! While they are not all steals (the Sinskey Carneros Pinot Noir was $55 in room compared to $25 in a store) there were other, lower priced wines too: Plumpjack Chardonnay for $65 in room and about $50 in a store (find this wine) and the sparkling Schramsberg blanc de blanc is $35 in the room and about $25 in a store (find this wine). And free in-room wi-fi to run your own price check!
I asked the affable Gilles de Chambure, Master Sommelier and Director of Wine Education at Meadowood about the pricing and quality of the wine in the rooms, he said "we want people to pull the corks." Indeed!
One negative about the beverages at Meadowood, however, was the abundant pouring in the dining room of one-liter glass bottles of Acqua Panna, a water imported from Tuscany. With bottled water available from five miles away in Calistoga I was tempted to break out my carbon calculator…