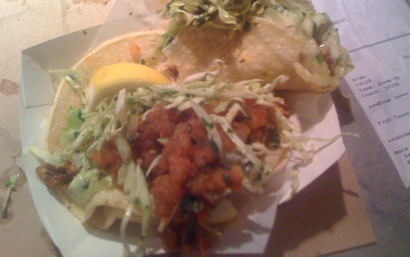 A couple of nights ago I had one of the storied dishes of Napa Valley. And no, Thomas Keller, I'm talking about the fish tacos at Taylor's Refresher, a roadside joint in St. Helena!
The horrendously bad cameraphone pic does not to the food justice but it is a piece of grilled mahi mahi, shredded lettuce and a hot sauce that has an arc like a wine, really kicking in on the finish.
Is pairing fish tacos with wine…impossible?!? Hit the comments with your suggestions!