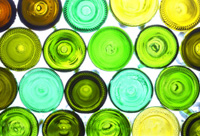 This excellent New Yorker article examines the phenomenon of measuring carbon emissions. The author, Michael Spector, mentions the study on the carbon footprint of wine that I wrote with Pablo Paster. And we were THIS close to a mention! Roll the tape:
Last year, a study of the carbon cost of the global wine trade found that it is actually more "green" for New Yorkers to drink wine from Bordeaux, which is shipped by sea, than wine from California, sent by truck. That is largely because shipping wine is mostly shipping glass. The study found that "the efficiencies of shipping drive a 'green line' all the way to Columbus, Ohio, the point where a wine from Bordeaux and Napa has the same carbon intensity."
It's good the research is getting out there! The WSJ blog Environmental Capital also mentioned it here and the New York based authors were delighted to raise a glass of Bordeaux to the finding. Foreign Policy also mentioned it in passing this time around but actually did mention it before.
Anyway, if this has made you thirsty for more on the topic, check out a summary of our research findings, my op-ed in the NYT suggesting a local drink, and be sure to come to the March 18 free talk and tasting benefiting The Nature Conservancy! Hope to see you there!