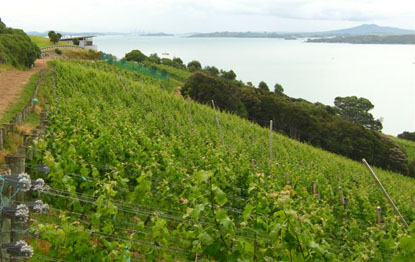 This photo comes from site reader Jennie along with her own rant:
I have been composing a blog ever since I took that pic re the manifest lack of thought in the architecture. Whoever is responsible should be SHOT! They go on and on about the 360 panoramic views (which there are outside) and yet the tasting room has one "picture" window with one table in front of it and aside from that you're sipping your tasting glass on bar stools either looking at the wall or looking at the bartender – I mean REALLY. Don't you often think the world would be a better place if you ruled it?!
In a follow up email, she admitted to not really having her own blog. Too bad!
So, where in the wine world was she? UPDATE:
Yes, Jennie was on the island of Waiheke, New Zealand, at Te Whau winery. Congrats to Terry, Morton, Craig, and Kelly who got very close and Paul and Jeffrey who nailed it!