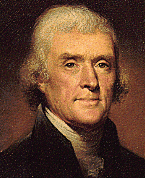 With President's Day soon upon us in this election year, it's time for the first installment of Entertainer-in-Chief!
…the urbane Thomas Jefferson, who occupied the residence from 1801 through 1809. Jefferson moved swiftly to grace the President's House with all the trappings of the leader of a great new country, including stocking it with fine wines from around the world. Jefferson's Williamsburg education and worldly ways imbued him with a predisposition for the pleasures of the palate, and his extensive travels throughout France and Italy in the 1780s made him a student of wine.

When he ascended to the presidency, Jefferson had wine vaults constructed below the east colonnade to house his sizable collection. (The area is no longer used for that purpose.) He is said to have spent more than $11,000 on wine during his two terms as president, a sum that in today's economy would equal roughly $175,000.

Jefferson was a gracious host, regularly dipping into his private collection to entertain foreign dignitaries, as well as his colleagues and opponents, in high style. In Jefferson's day, presidents didn't have expense accounts, but rather were expected to run the household from their own salary. Indeed, it is said that Jefferson was generous to a fault, entertaining so lavishly that financial problems would follow him to his grave. [Wine News]
Wow, what a gent. And what an exemplary, overstretched American consumer! Good thing home equity loans hadn't been invented or he might have set off his own mortgage crisis at Monticello.