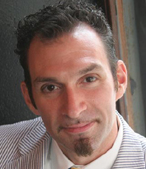 Terroir, the new 500 sq ft wine bar in the East Village opens "at the end of February." I caught up with Paul Grieco and talked about what the plan is for the new place. Here are some key words and phrases: edgy, Riesling, sense of place, gonna piss people off, Riesling, terroir, uber-terroir, open their minds, and…Riesling! Sounds like great stuff!
For those who don't know him, the Paulster won a James Beard award for wine service when he was a Gramercy Tavern in 2002, then he and Marco Canora started Hearth in the East Village and later Insieme on 51st and 7th. Both the restaurants have great wine programs but this is their first wine bar! Read on for my Q&A with Paul! Or map Terroir at 413 E. 12th St.
Dr Vino: How will the wine program at Terroir be different than the other restaurants?
Paul Grieco: At Terroir we will push the envelope even further on…how we differentiate between wines. There will be a greater focus on a sense of place. That's what will drive that program: sense of place. In summer time, there will only be Mosel Rieslings on that list. Not only do we want lighter, more acid driven, lighter alcohol wines but we want to focus on particular terroirs in the Mosel, so we'll only have wines from the towns of Wehlen and Bernkastel and for two months we're going to run with that. And that's all you're going to get.
Then we're going to focus on the Wachau but not the entire region of Wachau region of Austria but just a particular little stretch of vineyards for instance. The winter focus will be on Nebbiolo and Barolo but not just any Barolo but those from La Mora. And we'll have five different vineyards from La Mora and then we'll tell that tell that tale. I can't say that at each restaurant we've narrowed the focus down but Terroir is going to be the most narrowly focused program we have ever done. If these restaurant lists are all subjective, then this is going to be uber-subjective. I expect to piss off a lot of people with it but too bad.
Q: What will irritate people the most?
A: Because when you come into Terroir in the summer the only white wine by the glass will be Riesling. At Hearth I'm running a restaurant, at Insieme I'm running a restaurant and I realize that I have to represent a broad panoply of wines. But at Terroir, um, no! If I'm going to have a chardonnay by the glass it's because we are doing something uber terroir focus on an appellation within Burgundy or within California. But if we ain't….
I tell people that it is going to progressive and they say well what does that mean? I say the only wine by the glass in the summer will be Riesling. That's it!
Q: Do you think it is the ultimate summer wine or something?
A: Well, I'm a Riesling fanatic! I think that more people should drink Riesling—they'd be better people if they did.
It's a small enough venue at 500 sq ft, the costs sort of minimal, I think I feel I can afford to take chances like that. I want to upset people, I want to educate people, I want people to open their minds. In taking such an aggressive stance, my goal is not to piss people off; my goal is to get people to open their minds. If they come in and they say they want a Chardonnay and I say all we have is Riesling, and they say "how can you not have a Chardonnay! It's the worlds most popular grape!" I'll say, "you're absolutely right and here's why Riesling should be just as popular…please have a taste."
And we have the staff to back it up. We educate everyone in our restaurants to be able to talk about wine to make you more comfortable. Most people look at this wine list [at Insieme] and say there's all this writing! How are things divided? We're here to explain, to hold your hand. Take care of you. Good hospitality and technical service. But you can also learn something if you open yourself up to it. And that's how we think we exceed expectations.
At the end of the day if you don't want any help, well, I've got that too. At Terroir I don't feel the excessive need to do that. Listen, if I were opening up a wine bar at 51st and seventh, I would probably have a different tack on it but at 12th between 1st and A I think I can be a little more edgy.
Terroir wine bar: 413 E. 12th St, opening at the end of February.