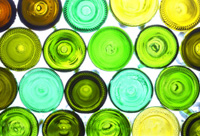 Are you interested in climate change and wine? How about a free tasting of natural and organic wines? Then you need to put March 18 at 7 PM on your calendar and come to West 26th St.
I'll be joining a panel to benefit The Nature Conservancy. Dominique Bachelet, director of climate change science at The Nature Conservancy, and Scott Pactor, owner of Appellation Wine & Spirits, and I will be on the panel. The wines will be provided courtesy of the excellent importer/distributor Michael Skurnik.
Even though the event is free and open to the public, you'll need to register because space is limited. I hope to see many of you there!
"Message in a Barrel: Drinking Wine in a Changing Climate." Details and registration.
In other Dr. Vino green news, there are still a few spaces left in my afternoon seminar at UC Berkeley (but held in their SF SoMa location) on Saturday, February 23. "Red, white and green wine: can you taste the difference?" Image: istockphoto.