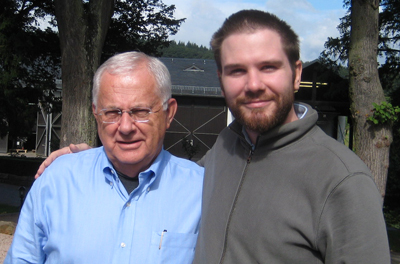 Stephen Bitterolf is one of two wine buyers at Crush Wine & Spirits for "the wall," an undulating display for the store's wines under $55. (Wines over $55 are in "the cube.") He went on a trip to Germany last fall and is a huge fan of riesling. Here he shares his favorite value and splurge rieslings, best value regions, the most "impossible" food-wine pairing that he has overcome, and discover why he keeps his cellar hundreds of miles from where his mouth is. He's pictured above with venerable importer Rudi Wiest and keeps a blog of his tastings and travels as "Drinking at work."
Riesling: It's not just for grandmothers anymore. Why are you so into it?
It's one of the world's most noble grapes, truly – producing wines that just shriek of their terroir, wines that age superbly, wines that are incredibly versatile, ranging from very sweet to very DRY. Yes, it's all true. There is a definite misconception that all Riesling is sweet, and that all sweet wine is cheap. Let me say this here and now – FALSE! More and more, the great dry Rieslings (called "Trocken" in German) are making their way into the states, and they are plenty of fun. Austrian Rieslings tend to almost always be dry.
But my whole Riesling obsession began because it just happens to be one of the silliest values out there – a Zilliken Kabinett for $20? A Schloss Lieser Spatlese about $30! These are amongst the absolute greatest producers in Germany… C'mon! I should also say that both my partner in wine-buying, Joe Salamone, as well as the General Manager, Tom Stephenson, are Riesling-heads, so if a wine is going to be opened at the end of the day, chances are it's going to be a Riesling.
And I dig confusing-sounding German words, what can I say? How great is the name "Schlossböckelheimer Kupfergrube"? "Kreuznacher Krötenpfuhl" is also lots of fun to say. Like Burgundy, Germany and Austria take some study and dedication to become comfortable with – but so what? The best things in life require a bit of hard work.
What's your most amazing Riesling experience?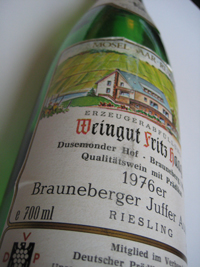 A very hard question, though one bottle definitely stands aloft, on a plane above most others – a 1976 Fritz Haag Brauneberger Juffer Auslese Gold Capsule #12. This bottle – which I actually hocked after the tasting and took home it was so amazing (thus the photograph) – was from none other than famed German importer Rudi Wiest's cellar. We drank it with him at an event in New York last year. The #12 is important here – this was a very small batch of wine made, in one of the most hallowed botrytis vintages of the 20th century, with little to no botrytis. This is extreme selection at its most extreme – Haag literally going through each and every grape, and taking only the best. It was a downright privilege and honor to drink this wine. Joe was with me – we refer to it today as "sunshine caramel."
That said, I also have to make quick reference to the experience, this past September, of sitting in Hanno Zilliken's modest home in the Saar, going through a flight of 2005 and 2006 Rieslings…culminating in a Wagnerian crescendo of four wines (bear with me here): 2006 Saarburger Rausch Auslese, 2005 Saarburger Rausch Auslese Gold Capsule #8, 2005 Saarburger Rausch Auslese Long Gold Capsule #6 and finally, the divine 2005 Saarburger Rausch Beerenauslese Auction #2. You get all that? The escalation was like being run over by a car, only to get up, dust yourself off and be plowed over by a Mack truck. Just when you thought the limit couldn't be broken – there it was: the limit, transcended. The nuances of extreme intensity, the forceful, porcelain-frozen-into-ice acidity… like being able to pause – at least for a few minutes – the explosion of a particularly vivid firework show, and run your fingers over the delicate labyrinthine complexity of pure energy… or something like that.
Who are three producers that you think offer a compelling Riesling at reasonable prices?
Again – very hard, there's so many out there. I can't very well mention the greatness of these Zilliken wines and then not say anything about the Kabinett, which is, yes, Butterfly light with the poise of a ballerina. Clemens Busch, a sort of under-the-radar guy in the Lower Mosel, is doing stunning stuff and you can find his "Vom Roten Schieffer" for $20. In Austria, I think Salomon's 2006s are just incredible – the Riesling Kogl is about $25, admittedly not a paltry sum, but it is just incredibly rich and broad, burly juice though with plenty of tension and angular minerality. Incredible stuff – check out the Salomon's Riesling Pfaffenberg too – a better site that produces a Riesling of more elegance and florality.
Which regions of the world are making the most interesting wines under $25 right now?
Germany and Austria without a doubt. Beaujolais has to be one of the last bastions of incredible quality at silly prices; the greats of Beaujolais – the Gang of Four (Lapierre, Thevenet, Breton and Foillard – four Beaujolais producers who importer Kermit Lynch marketed as a return to natural winemaking) but also Clos de la Roilette, Devignes and Descombes Morgon. I drink so much of this stuff. The Jura is elusive and difficult, yet for the slow shock-wave of greatness, the true interplay of food & wine, there may be no better wines. They're also making some very good Burgundian Chardonnays and Pinot Noirs that are pretty damn good. The Loire Valley obviously has to get a mention. But of course there are gems everywhere, you just have to look… and be curious!
How did you get into wine?
My background is Art History. I came to New York to get my PhD in Northern Renaissance painting. That didn't quite happen as I expected – and somehow I found myself drawing Albrecht Dürer's "Feldhasen" over and over again for about a decade, and drinking a lot of wine while doing so. Crush is the first place I've worked – I went there not only to get wine for my cellar at a discount – but because the selections were some of the smartest I came across in the city. After seeing the selection of German/Austrian wines, Loire Valley stuff… I knew it was the place I wanted to work. It's been an incredible journey though, since then…

What's the most "impossible" food-wine pairing you've ever successfully overcome?
Most of the time I forget the failures and celebrate the bizarre successes. How about a stunning Cerasuolo from the late Abruzzo genius Edoardo Valentini with some Gingersnap Cookies made by none other than mom! That was a crazy match that we still talk about. (Thanks mom!)
What's in your personal cellar–and where is it?
Unfortunately, I've become very sloppy and at this point I have wine everywhere. I have too many cases stashed in the store. On any given day I have about a case of wine on my desk (the pleasures of working in the industry). I've got a wine fridge at home that holds about 60 bottles. It's of course chock-full at this point, even though I've taken out the shelving so I could cram more bottles in. The lion's share, however, is stashed in Vermont where my in-laws have an old farmhouse with a natural cellar. It's so humid the labels fall off and the bottles are filthy, but they're safe.
As for the contents, this is not going to be a surprise, but I have a lot of Riesling in my cellar. At this point, it's probably 60% Riesling. I've bought a lot of 2006 Austrians because I think they're amazing and will age incredibly. But beyond that, it's really a humble placed filled with oddballs I know and love – a few weird Bordeaux. For some reason I have a vertical of Cantemerle going on… Not much Burgundy for no other reason than what I want to drink is above my price point. I have a few Mascarello Monprivatos – including a 99 signed by Mauro when I was in the Piedmont. There's an embarrassing amount of Beaujolais. I actually have at this point a few cases of Beaujolais magnums, though to be honest I don't know where one opens a Beaujolais magnum. Other than a fun, good place. Which, I suppose, is not a bad place to be.
Related: "Better Spätlese than never" (The Economist)