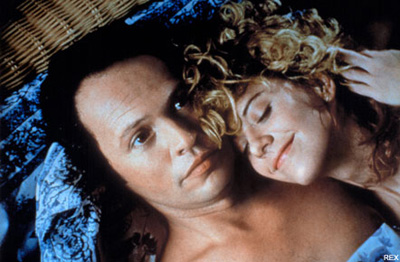 French wine marketers have been rightfully pilloried for not knowing up from down in terms of marketing low- to mid-range wines. And now for something completely different: Wine for women. Roll the tape:
"We offer different wines to drink for a variety of occasions, whether it is a girls' night out, individual tasting pleasure, a romantic dinner, after love making, or a business success." [WineSight brochure via Decanter]
"After love making"? Zey are so French! Does a man need a separate bottle for such an occasion, a big zin?
And isn't this deja-vu? Oh yes, Beringer rolled out "White Lie" a few years ago, which, mercifully, cannot be found now. And a magazine called Wine Adventure, marketed as "the first ever wine magazine for women," barely lasted a year after its 2005 roll-out.
No matter. British retailer Marks & Spencer seem to think marketing to women will aid the sales of a pink port for "ladies." Have your say about gendered wine products in the latest poll!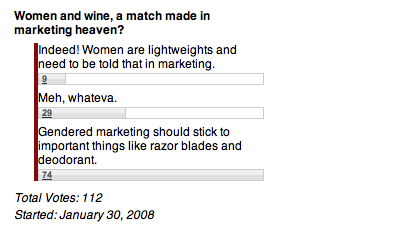 poll now closed
Related: "Mourvedre: the next big red?"