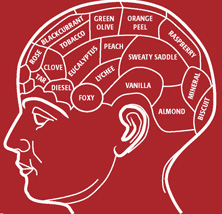 BREAKING: Behavioral economists at Caltech attached an EEG to the heads of 21 volunteers who knew not much about wine, fed them one milliliter of cabernet through a tube and the only thing they told them about the price, which wasn't always accurate! Guess which one they always thought was better? The more expensive one, even when it was the same wine!
For a summary of this study, check out this BBC account, the best I've seen (with blog-worthy reader feedback too! And thanks to readers Grayman, Brian, Stephen and Terry for sending in versions of the story.).
Unfortunately using price as a proxy for quality happens all the time in the world of wine. That's why, for example, Ace of Spades $300 nonvintage Champagne sells out when it tastes remarkably like the $50 version from the same producer. Hmm, maybe that's why no samples of it were available during Vinexpo, a savvy crowd of trade tasters? Examples also abound of new producers who release wines at high prices in an attempt to signal quality that may or may not be there.
But, fortunately, price and quality are not always perfectly related. Just last month I poured two wines for participants at a tasting. One was quite a storied Napa producer and another was an unheralded producer from some dustbowl in Spain. They could see the bottles and some knew the Napa name. Which did they prefer? The Spanish one. And when I told them it was $15 vs $115, they rejoiced!
What do you say, is a higher priced wine always better? Share your thoughts and stories in the comments.
It's too bad that the researchers' next project is about pain–I was hoping they would repeat the wine quality test with Parker scores. I bet it would have an even higher correlation with perceived quality than price!
Image used with permission from DeLongWine.com