With the Iowa caucuses (finally!) happening tonight, we need a wine lover's guide to the presidential election.
Mitt Romney: According to the NYT, he is so "vigilant about nutrition" (read: boring!) that he eats the same meals every day. Anathema to the wine lover! Added bonus: teetotaler. No love from wine geeks.
Mike Huckabee: He's reputedly a charmer, plays guitar, knows (or knew) how to eat, and jogs every morning. But he's also a southern Baptist minister, so he doesn't dance and is a teetotaler. So close, yet so far. Wine pick: "Fre," a de-alcoholized wine.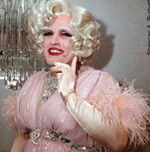 Rudy Giuliani: Rudy used to like Long Island merlot but 9/11 changed everything. Now he'll drink whatever is local, as long as it is American.
John McCain: He used to be more of a loose cannon eight years ago. Now, the fire in the belly appears as mere embers. His wine is a 10 year old Turley Zinfandel, fiery in it's youth, now sadly without vigor.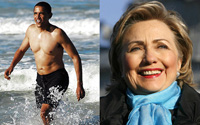 Barack Obama: This man has got style. Heck, one commentator even said he was the "wine track" candidate some time back. So he's our man for the White House. He's also quite a blend himself, born in Hawaii to a mother from Kansas and a father from Kenya and lived early on in Indonesia. This eloquent American blend could be none other than one of the finest wines in America, with structure and spice: Ridge Monte Bello.
Hillary Rodham Clinton: We know Hillary hearts New York but is she cold as ice? Wine pick: Standing Stone, Vidal, ice wine 2005, Finger Lakes.
John Edwards: he's made it far on his "two Americas" theme. We know what that means–beer America and wine America. We'll split the difference and put him down for a Franzia box wine.
The wild cards

Ron Paul: this guy may be crazy–he wants to eliminate the IRS, the Federal Reserve and a host of government departments and restore the gold standard–but if he is, then he is rich and crazy thanks to his $19 million in fund raising last quarter. Wine pick: Armand de Birgnac, Ace of Spades, "gold bottle," non-vintage Champagne $300.
Fred Thompson: This Tennessean seems like a natural fit for Bourbon. No love from wine geeks.

Dennis Kucinich: Given his hhhhot young wife (born 1977), he clearly likes youthful reds. We'll put him down for a California Pinot, most recent vintage available.
Christopher Dodd: His move to Iowa in a desperate attempt to score fourth place makes him seem pandering. And nothing tries harder to be a crowd-pleaser yet fails to inspire more than Merlot.
Bill Richardson: He's big and he claims to have the most foreign policy experience. Wine pick: the brawny 2004 Numanthia from Spain.
Related: "Bush-Kerry 2004: an election guide for wine lovers"