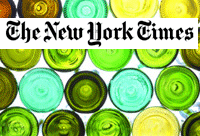 Welcome readers of the New York Times who saw my op-ed today. If you're looking for some bullet points and discussion of my research with Pablo Paster on wine's carbon footprint, check here. Consider subscribing to the site feed or the monthly email updates on the right sidebar.
If you're a regular reader and wondering what I'm talking about, surf on over to the NYT where you can check out my op-ed in today's paper. I suggest drinking local this New Year's Eve if you are making it a resolution to turn a new, greener leaf in 2008. Local wines have a small carbon footprint because of minimal transportation, which is carbon intensive. And, heck, locavore is the word of the year according to the Oxford English Dictionary, so it's trendy too!
Be sure to check out my maps of NYC wine shops and NYC wine bars if you'd like info on where to find local wines in the city. If you're looking to find the Lieb blanc de blancs, click here to find it at stores.
But since it is a big bar night, a few places specialize in local fruits of the vine. The two branches of Vintage New York pour exclusively the wines of New York. Borough Food & Drink, which opened this past summer at 12 E. 22nd St., highlights–you guessed it–food and drink from the Empire State and has about 40 NY wines on its list. Home Restaurant (20 Cornelia St.) is a cozy West Village restaurant focusing on local food and wine and is owned by the couple that owns Shinn Estate Vineyards. The wine list has 30 selections from New York State, including two sparklers.
If you have some favorite places for finding local wines in the City or are a big fan of a certain local winery, feel free to hit the comments. And whatever it is you raise in your glass tomorrow night, may it be a happy new year!