Buckle your seat belts for more wine classes in 2008! And should I tell you to stow you tray table and bring the back of your seat to a full and upright position?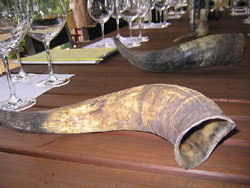 Well, you might not have to get on a plane, but I do. On February 23, I'll be offering a seminar at UC Berkeley. It's a non-degree, non-credit (too bad!) program and all are welcome to enroll. Over four hours, we'll swirl, sniff and discuss the topic of just how natural wine is in a seminar entitled "Red, White and Green wine: can you taste the difference?" We will blind taste several pairs of wines, comparing organic and conventional and see if you can taste the difference (no advance knowledge of wine appreciation is necessary). Saturday, February 23, 1:00 – 5:00 PM. Further details and registration now online. I hope to see you there! I hasten to point out that this same class is 25% less expensive than when I offered a similar course at the University of Chicago last spring–a rare discount in California?!
Registration is also open for my next six week class at NYU, Becoming a Wine Expert. This course has enrollment limited to 25 because of venue size–the wood-paneled Torch Club. Last time the wait list was 75, most of whom were probably trying to get into Richard Brown's Movies 101 course but clicked the wrong box or something. Feb 27 – April 9 Details and registration.
And look for more one-session classes in 2008!