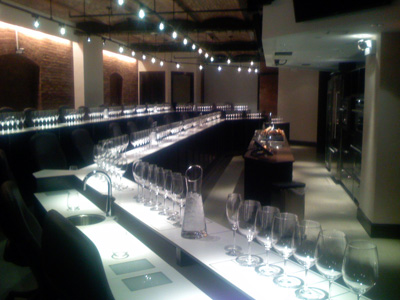 Thanks to all of you who came out and packed the beautiful room at Astor Center on Friday. It was a great time and fun to see so many participants from my NYU classes of semesters gone by. Many people won prizes! The wines were tasty. But since not all blog readers could fit in the 36 seats, here was our lineup of wintry wines:
1. Col Vetoraz, Prosecco NV. Light, fun, bubbly and $13 (find this wine). A good party wine especially when the party is about things other than the wine.
2. Domaine de la Pepiere, "Granite de Clisson," Muscadet 2005 (about $20; find this wine). Marc Ollivier is a leading quality producer in this region. This particular bottling is an effort that sees a lot of time on the lees (dead yeast cells that are natural), which gives it more richness than his $9 bottling, which is great for summer since it is more zingy.
3. Saxon Brown Semillion, Casa Santinamaria 2006 ($27; find this wine. A field blend from an old vineyard in Sonoma. It's a wonderful example of a an aromatically intense wine that is unoaked and people liked the acidity on the palate. Goes great with brown sugar baked ham, I would imagine.
4. Joguet, "Les Petites Roches," Chinon 2005 (find this wine). Quite tannic so probably needs at least a year in the cellar. Nonetheless, it was good to show an example of tannins in the mouth. Good fruit and good acidity save the wine — one participant remarked how the piave cheese really improved it. Yay, it gets better with food!
5. Rene Rostaing, Cuvee Clasique, Cote-Rote 2004 ($50; find this wine). From this "legend" of the Cote-Rotie, this wine from the syrah grape was subtle and restrained in classic (classique?) old world style. Paired well with the epoisse.
6. Broc Cellars Syrah, Dry Stack Vineyard 2004 ($30; find this wine). I wanted a wine to contrast with the Rostaing and this Broc fit the bill nicely. Quite modern in style, it helped show the difference of new oak on the same grape. In a rough poll, the Rostaing edged this one out by a narrow margin.
7. Dow's Late Bottled Vintage 2000 port. ($19; find this wine) This wine really was a big surprise–people loved it! They thought it was in the $40 – $60 range so when I told them it was under $20, I had to restrain them from stampeding for the port section. Paired it with a Stilton.
Look for more one evening events in 2008! And I hope to see you there!