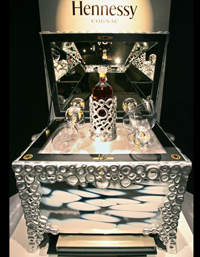 Tis the season for one thing: bling!
Item 1: Hennessey has launched Beauté du Siècle, a limited release cognac for $150,000 euros ($220,000; find this cognac). A blend of 100 year old cognacs yadda yadda, it comes in a Baccarat crystal bottle (of course!) and a display chest that "was made by 10 different artists using mirrored glass and melted aluminum" according to Decanter. A member of the Hennessey board will deliver it personally to whoever buys it–in a stretch Hummer, I'm sure! Any bets on which city will see the first delivery? I'm going with Moscow.
Item 2: A bottle of whisky fetched $54,000 (including commissions) at auction in NYC. One of forty bottles, this 1926 Macallan was housed in a humble wood box. Half the bids came in from overseas.
Item 3: It pays to shop around for bling! A reader writes to say that Sherry Lehmann has a Methuselah (6L) of Dom Perignon 1995 for $9,999 instead of the previously discussed jerobaum (3L) for $17,000 at Crush . Only drawback: it doesn't have the white gold bling since "This rare bottle is packaged in its own locked case with a metallic finish to preserve and protect this fine wine."
Item 4: bonus bling for 2008! As tucked away in a quick mention here, the new, 250-case 1995 Krug Clos d'Ambonnay (find this champagne) will be coming out for $3,000+ a bottle.
Related: "Judge this cognac by its bottle"