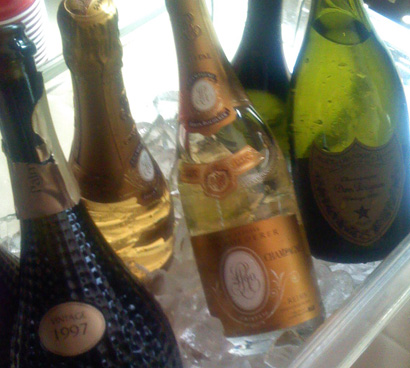 Yesterday I went to one of those lunches that comes around, oh, never. So much fine Champagne is rarely found outside the penthouse jacuzzi of a hip hop mogul.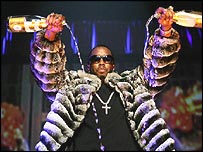 It was the December lunch of the Wine Media Guild with a theme of prestige cuvées. You got it–Krug, Dom Pérignon, Cristal and 20 other top wines from top houses. Leading us in the packed-house tasting was WMG member Ed McCarthy, photographed at right, author of Champagne for Dummies. I felt like calling him E Diddy with so many bling bubbles around him.
I'm not going to do a run-down of all the wines but here are some of my takeaways.
Best Value
* Laurent Perrier Grand Siecle NV may be the best value of all these wines (find this champagne). Ed said that it can be found for less than $70 retail in part because the house has never made a big push in the US market. I loved the wide, olde fashioned bottle as well as what was inside the bottle. This house also owns Salon and Delamotte, which are operated separately.
Discoveries
* Deutz was a wonderful discovery for me. The 1998 Cuvée William Deutz (find this champagne) was wonderfully rich, with some good apple acidity under the layers. One experienced taster deemed the best of the tasting. Ed said that it was underrated. Owned by Louis Roederer.
* Alfred Gratien, Cuvée Paradis NV (find this champagne) I'd never had a champagne from this producer before and I liked the rich, barrel-fermented style.
* Taittinger Comtes de Champagne blancs de blancs (find this champagne) started blanc de blancs after WWII and still going strong.
* Perrier-Jouet blanc de blancs 1999 (find this champagne). They've never before had a blanc de blancs. I found it big, powerful, and leesy with a lingering finish.
* Pommerey Cuvee Louise 1998 (find this champagne), rich and leesy, but not overdone this had a good weight. It was popular at my table during lunch.
* Taittinger Comtes de Champagne brut rose 2000 (find this champagne): subtle, great structure but I preferred their blanc de blancs.
* Henriot, Cuvée des Enchanteleurs 1995. (find this champagne) I'd never had this champagne before and I certainly won't turn it down again. Warm toasty style.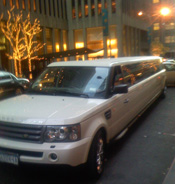 Not exactly news that these were fantastic:
* Bollinger is big. Barrel-fermented, this 1999 Grande Année brut (find this champagne) is still very young, it's big. At $90 or so retail, it's almost bargain bling.
* Cristal 2000 is, in fact, very good, despite the bling value (find this champagne). Age needed, however! Ed relayed a story about how he and his wife, Mary Ewing-Mulligan, had some delays during Thanksgiving travel a couple of years ago and when they finally returned home, they opened a bottle of 1985 Cristal. He said it blew them both away and showed him just how excellent Champagne can be. He recommended aging almost all these prestige cuvees for at least a decade. Too bad we only had current releases…
* Dom Perignon 1999, when tasted right after Cristal, is not as good as when consumed with lunch (find this champagne).
* Krug "grande cuvée," brut NV is, well, Krug. Mmm. (find this champagne). And with the new, 250-case 1995 Clos d'Ambonnay (find this champagne)rumored to be coming out for $3,000+ a bottle, this grande cuvee is a bargain! Yoink.
* Pol Roger, Cuvée Sir Winston Churchill, 1998. (find this champagne) Top notch, and with a new label to boot!
* Charles Heidsieck, "Blanc des Millénaires" 1995. Really terrific. World class bubbles. Showing well now with over a decade of age. (find this champagne)
Some relative disappointments
* Veuve Clicquot Grande Dame 1998: somehow seemed lacking compared to the others available, even from LVMH. (find this champagne)
* Mumm de Cramant NV: a nice one to open with but the tasting took off rapidly. (find this champagne)
* Nicolas Feuillatte Palme d'Or brut rose 1999: seemed oddly candied to me, but others liked it. (find this champagne)
* Piper-Heidsieck, Cuvée Rare, brut, NV: Last weekend I had some Piper brut NV in a mimosa and it was great. Apparently the house has had some changes so maybe they're headed in the right direction. This tasted quite mature for an NV but perhaps too mature?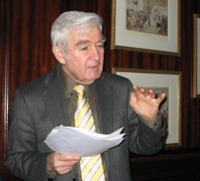 A few final notes from Ed:
* Although a vintage has been declared almost every year since 1995, his favorite recent vintages have been 1996, 1990 and 1988.
* He also recommends tasting prestige cuvees out of a tulip glass rather than a champagne flute to capture some more of the aromas. We had flutes at our tasting.
If you're interested in joining the Wine Media Guild or seeing the calendar of upcoming lunches, surf on over to the site.