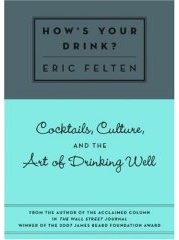 Eric Felten saved the James Beard awards. When he arrived at the ceremony last May, he saw that one of the the three cocktails he had selected to be made was using fake lemon juice. Eegad! Faster than you could say "shaken AND stirred," he dashed out to the nearest Jamba Juice and had them squeeze a half a gallon of real lemon juice. He saved the Sidecar at the ceremony.
His passion for purity may have won him acclaim from the attendees but it was his superb cocktails column in the Pursuits section of the Saturday Wall Street Journal that won him an award later in the evening.
This holiday season, his excellent, slim volume, entitled How's Your Drink is available, published by Surrey Books. It's doing phenomenally well, already the third best seller in Amazon's drink category (and currently on backorder!). It's small wonder since the rich stories engagingly put the 50 cocktail recipes in their social and historical context.
I shared some Torpedo Juice with Eric last week at the Pegu Club in Manhattan at his book launch party. I asked him if we could give away three signed copies to readers of this site and he gladly started signing.
To win one copy of the book, all you have to do to qualify for a random drawing is post a comment here saying what is your favorite cocktail. Post your comment by midnight on Friday to qualify. Check your email or this post over the weekend to see if you won.
How's Your Drink, by Eric Felten, Surrey Books (Agate), $20