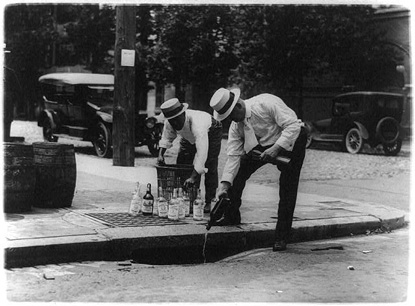 On this day, December 5, in 1933, they partied like it was 1999.
Prince wasn't even born, tech stocks hadn't been invented, and the dreaded Y2K bug hadn't yet terrorized the land. No, 74 years ago today, wine, beer and spirits flowed freely for the first time in fourteen years as the ratification of the 21st Amendment ended Prohibition. Can you imagine–fourteen years of a (legally) dry country? [shudder]
You can read more about how this complicated period affected the story of American wine in my forthcoming book, Wine Politics: How Governments, Environmentalists, Mobsters and Critics Influence the Wines We Drink.
Until then, let's raise a glass in honor of having the ability to do so–providing you're over 21, of course.
By complete coincidence, one friend wrote me yesterday saying that he had just enjoyed a bottle of 1933 Justino Malmsey Madeira (find this wine), saying it was "really, really good…still had enough acidity for another 74 yrs." Now that's toasting in style.
After the jump, find a list of bars in NYC that are celebrating Repeal tonight. In the comments, post bars in your city that you know of or any plans you have for tonight.
Unfortunately NYC wine bars aren't feeling particularly nostalgic. But if you are, here's a list of other bars from NYmag.
Beauty Bar
Botanica
d.b.a.
Puck Fair
Crocodile Lounge
Doc Watson's
Bua
Old Town Bar
Tom & Jerry's
Spike Hill
Black Betty
Savalas
Conker Hill
Image: #LC-USZ62-12142 from the Library of Congress.