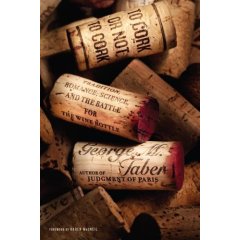 In my classes, I pour dozens of bottles from around the world and, inevitably, one is "corked," or contaminated by the chemical compound TCA (technically, 2,4,6-tricloroanisole). Of course it never arrives at the right moment (which would be during our discussion of sending wine back at at restaurant) and I don't always have a backup bottle. But it's a fun learning experience since we can all take in that mmmmoldy odor of wet newspapers stuck in a basement for two weeks.
But what's a fun problem in a class setting can ruin dinner. The problem of "cork taint" was only scientifically identified in 1981. Since then it's been a huge point of contention whether the industry should stop sealing bottles with bits of tree bark and shift to another closure, such as screwcaps, that eliminates the problem of TCA.
George Taber traces the arc of the cork story in his very readable book on the subject, "To Cork or Not to Cork." Three copies of the book have landed here at the Dr. Vino World Headquarters and I'll be giving them away in a random drawing. To throw your name in the hat, post a comment with your thoughts on corks, which can be as succinct as: love 'em, hate 'em, or indifferent.
Post your comment by Wednesday at midnight ET to qualify for the random drawing on Thursday. Check your email and this post that day to see if you are a winner.
To Cork or Not To Cork: Tradition, Romance, Science, and the Battle for the Wine Bottle, by George Taber ($26, Scribner)
Related: "Poll: Judge these books by their covers"
"Bringing closure: a screwcap-cork showdown"