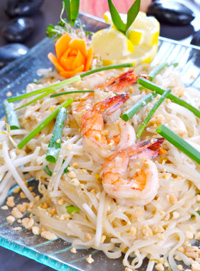 OK, it's not a seasonal dish. But it's a popular one!
Help us in the latest food challenge — which wine would you pair with: shrimp pad thai!
I don't think it needs any explaining. But in case you haven't picked up a take-out menu in recent years (or been to one of the many Thai BYOB restos), the main wine challenges are the sweet-ish spicy sauce, a little egg, rich shrimp, and the chopped nuts. Go crazy!
Image: istockphoto