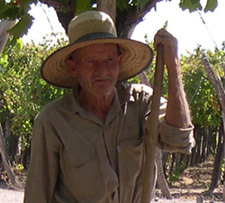 Where was the small man with the big hat? Or was it a big man with a small hat–and even bigger vines?
I stopped by the Cavas Wine Lodge in Mendoza, Argentina last spring after it had just opened. Proprietor Cecilia Diaz was showing us around the new lodges interspersed among the vines with breathtaking views of the Andes. This guy rode out and started doing his thing but posed for me to take a picture. Cecilia said that he had worked there forever so they kept him on when they bought the property and gave him a new bike. And, no, he wasn't very tall, in fact.
Nice guess, Luiz, with Zuccardi in Mendoza! In fact, I took another photo of Jose Zuccardi gesticulating wildly under his similar trellis system. They grow them vines big there!
It was a wide range of guesses that emerged in the comments including: Golan Heights; Bekka, Lebanon; Brazil; Rias Baixas, Spain; Greece; Portugal; California; the Swan and Barossa Valleys of Australia; Thailand; and "the outback region of Mukwonago, Wisconsin" (thanks, Gary!).
There were good captions for the photo too, including "Frodo Baggins better destroy that damn ring or I'm going to be making wine for that sulky serpent Saruman!"
So without further ado, thanks to a roll of the dice at random.org, the winner of The Emperor of Wine is: Philippe Newlin! Congratulations, Philippe! And thanks to all for the participation and humor.
You can read more on my trip to Argentina. And send in a photo if you'd like to stump us the next time.