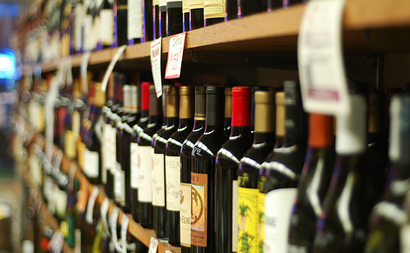 The hipsters at NY mag asked for help. Their reporter, Emma Rosenblum, went to eight different wine shops and asked the clerks for their wine pick under $25 for a steak dinner. (Steak? Come on, in this day and age of extracted fruit bombs, that's no impossible food-wine pairing!) Then she poured the eight wines for three of NYC's top sommeliers who gave them raspberries–and were not just talking "hints" of raspberry, these were full-on, nasty and slobbery. It's a fascinating story that raises lots of issues. Among them:
1. Lame clerks. The clerks in the story were lame. That can happen, particularly this time of year as stores add temporary help. If you're not convinced you're getting great service, talk to another clerk, possibly the wine buyer for that department since you're sure that he or she will be there to throttle come January, if necessary.
2. Shelf-talkers. Could the reporter have gotten better wines by keeping mum and letting those flaps of paper do the talking? I have an ongoing discussion with a cranky friend who says that store clerks are more reliable than wine magazines because: (a) magazines have compromised their ethics and (b) wine stores have their skin in the game because they want you to come back. Judging by this line-up though, not many stores in NYC are likely to have repeat business!
3. Sommeliers. It was an interesting idea to have restaurant wine sales people (sommeliers) judging the picks of store wine sales people. Is the sommelier more likely to steer you right be cause he or she is around to fear your immediate wrath or bask in your lavish praise after you drink the wine? (Btw, I hope NY mag does an encore edition, pouring sommelier selections back for wine buyers at stores. And with seasonal food this time!)
4. Friends. NY mag didn't talk about them. But let's add them to our poll for laffs.
So have your say in the latest poll!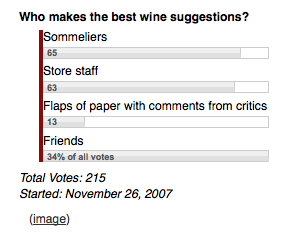 poll now closed
(image)