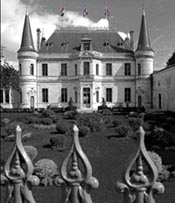 How would you like to intern at a winery during harvest? OK, one of the top chateaux in Margaux? OK, now add that you are a high school student and think how cool that would be!?!?
Following our discussion of kids at wineries, I was delighted to learn that Chateau Palmer has an open view on the subject–at least for teenagers. Bernard de Laage explained to me in New York recently that Danish high school students have been coming to the chateau to help with harvest since 1997. Danish students have to do a work-study and some clever teacher there dreamed up the idea of bringing them down by bus for a month. Um, how come no teacher at my high school ever had this brilliant idea?
Bernard told me that the students are great workers for at least two reasons. First, "they have no bad habits." He was speaking to their harvesting abilities, of course. Because they have done no previous vineyard work, they "do exactly what we say," Bernard told me. Second, he said that "we can rely on them–they're here every day." Local workers for hire, by contrast, are available some days, but not others as they scramble to help across many vineyards.
It seems like a jolly time judging by the tiny photos on the Chateau Palmer blog. I wonder what they drank at meal time? My guess is not rum and coke.