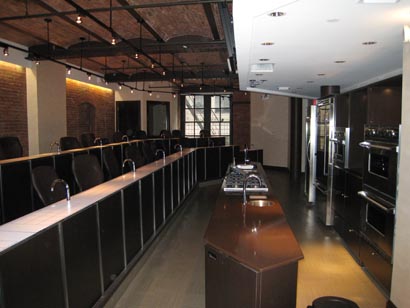 Come taste my wine picks with me! And see the brand-spanking new, not-yet-open Astor Center! And finish your holiday wine shopping–with a discount!
Wondering which wines to pour for the holidays? Or which wines make the most impressive gifts? Come taste with me on December 14!
I'll be pouring seven great wines that I've chosen–red, white and bubbly. We'll talk party strategies, how to impress the boss with a gift wine, and good food pairings. NO prior wine education is necessary, just a willingness to try something new!
And we'll be doing it in what is New York City's newest and coolest wine education space, the new Astor Center, above Astor Wine & Spirits. I dropped by for a preview and was amazed: stadium seating! Comfortable swivel chairs! Each station with a sink and backlit white surface! Three flat-screen TVs! Truly amazing. There's even a show kitchen but I promise to save my Emeril impression for next time.
The space doesn't officially open until next year. But we can get in early for this event. So join me 6:30 – 8:00 on Friday, December 14. And Astor has even offered to extend a discount on the seven wines poured during the event so you can get a jump on your holiday wine needs.

Buy your tickets in advance here
Tickets cost $60.
To guarantee a space, book in advance. Please plan on being in your swivel chair at 6:30. Seating is limited so book early!
399 Lafayette St (entrance on 4th St) map Astor