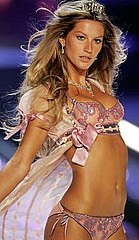 Gisele Bundchen doesn't want our dollar any more. Jay-Z flashes a wad of 500 euro notes in his latest video. Jim Rogers, former parter of financier George Soros, is selling his house and all assets in the US dollar and moving to Asia.
I was stuck on a local subway yesterday when I should have been on the express. That gave me time to flip all the way to page C14 of the WSJ and read the currency table and see what's got Gisele, Jay-Z, and Rogers running for the hills. Not a pretty picture. The greenback is down across the board: -10% against the euro YTD, -12% against the australian dollar, -7.6% against the kiwi dollar, and even -4.7 against the Chilean peso. (Trivia: which significant wine producing country has the dollar actually appreciated against this year?) Elsewhere I read that the euro has appreciated by 50% since 2002 against the dollar.
Thanks to our dollar looking like the currency of a banana republic, imported wines are getting more expensive. Who stands to gain? Why, producers in America since we're in the same, downtrodden currency zone together.
Paging California! Will you please answer the white courtesy phone? This is your moment to shine. Start making interesting wine under $10. Imported wine often has to go through one more tier (the importer) than your wine so there's a built-in cost advantage. Now with the declining dollar, that gap widens.
Imported wine has grown to account for almost a third of all wine in America, up from only 13% in 1990. The Silicon Valley Bank ripped California a new one in a report last spring as they stared in awe at the whirling vortex of Yellow Tail, pinot grigio, and Chilean cab: "Are American vintners starting to look like Detroit in the 70's, when gas prices soared and automakers kept putting out big gas guzzlers?"
But their same report this year suggested an American market of strengthening demand and short domestic supply. They predicted foreign wineries to fill the gap. But at some point in the dollar's decline, the importers and the producers will stop sharing the pain and pass it on to the consumer in the form of higher prices. I talked with Bill Deutsch, importer of Yellow Tail, a few years ago and know that he is a savvy currency hedger. But with hedging, you can run for a while but you can't hide forever.
Sadly, rising prices for foreign wines just means less competition for California. And as we wine consumers know all too well, a lack of competition too often means a rise in prices or a decline in quality. That would be a sad direction for them to go.
Hit the comments if you have had a stand-out wine under $10 from California (or elsewhere in the US). Not that Gisele and Jay-Z are interested. But some of the rest of us in this currency zone are.
(Image: victoriassecret.com)