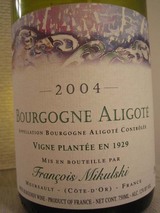 When the dollar heads south, so do Burgundy fans. Neil has organized us to head south to the Côte Chalonnaise or the Mâconnais, which he politely calls "silver Burgundy," for this Wine Blogging Wednesday.
That gave me a chance to try the excellent Domaine Francois Mikulski Aligoté 2005 (about $17, find this wine). This grape, Chardonnay's poor cousin in the area, has traditionally had crème de cassis dumped all over it in the regional aperitif, Kir (but hey, its not such a bad fate since the Kir Royale reserves that place for Champagne.)
This Aligote has an extremely alluring flavor profile that resembles a cross between the zip of sauvignon blanc and the stony minerality of a Chablis. I poured it for one of my classes at NYU and people were flipping for it. I think sales of Aligoté just tripled.
BREAKING: Turns out that this Mikulski Bourgogne Aligoté is from Meursault in the Cotes de Beaune. Oops! Well, it is still "silver" insofar as it is not Chardonnay. If Neil is being literal, then I recently enjoyed the Génot-Boulanger 2005 Mercurey 1er Cru Les Saumonts (find this wine) for $23. It had pretty red berry fruit with good acidity and a dollop of Burgundian terroir. A good way to play the ridiculously priced 2005 vintage in Burgundy.