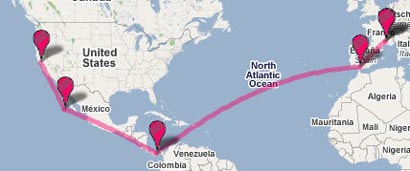 Bonnie, the pun Queen from the excellent food blog, The Ethicurean, posted a comment requesting that we analyze the carbon footprint of her Blanquette de Limoux. She rides her bike to her local wine shop in Berkeley, CA to buy the sparkling white wine from the South of France.
We stopped our carbon analysis at the shop or restaurant and didn't factor in how people get to the store. But there's no beating the bike for reducing the carbon footprint, Bonnie!
Since she didn't provide a producer name, which is fine, I've crunched the numbers based on a guesstimate rather than a specific case. Here's the headline finding: Bonnie's bottle produces just under 2600g of CO2 emissions, about the same as making and trucking a bottle of conventional wine from California to New York. More on the calculations after the jump.
The Blanquette de Limoux doesn't use oak barrels, so that is a savings. I also assumed that the glass for the bottles was produced 150kms away and driven to the site by truck. Then I assumed organically grown white grapes harvested at 24 brix. The bottle itself is heavier than still wine and I estimated 900g. Then I assumed a 200km truck journey to the port, followed by a 16,000km boat trip via the Panama Canal to Oakland in a non-refrigerated container. I assumed a 50 km truck trip from Oakland to Berkeley.
The lion's share of the carbon emissions come from the transport (about 1500g). But since almost the entire journey is via container ship, the carbon footprint is not unduly large. Whodathunk? Thanks for the suggestion, Bonnie.